ILLUSTRATED PAGNOL GEAR
I have been a fan and inspired by sci-fi illustrations for a while, be it Manga to fancy 3D renderings, so I thought, why not make a contest to get such illustration of not just of our Pagnol gear, but one that features our retro-futuristic vibe, plus I am a bit tired of our super cool photos! ha ha. And why not bring along one of our good friend's brands such as Velomacchi and use THE biggest custom motorcycles platform in the world, Bike EXIF?
I knew if we did this, we would all come out winning! I get what I been looking for and the artist gets a juicy prize AND Pagnol promoting his-her work-studio!
Well, now such winning artist is Ian Galvin from Chicago, USA. Ian's work was featured in the design issue of Iron & Air magazine an important piece of information I am just learning about as I was checking more of Ian's work! WTF Ian!? You have to let us know these things! :)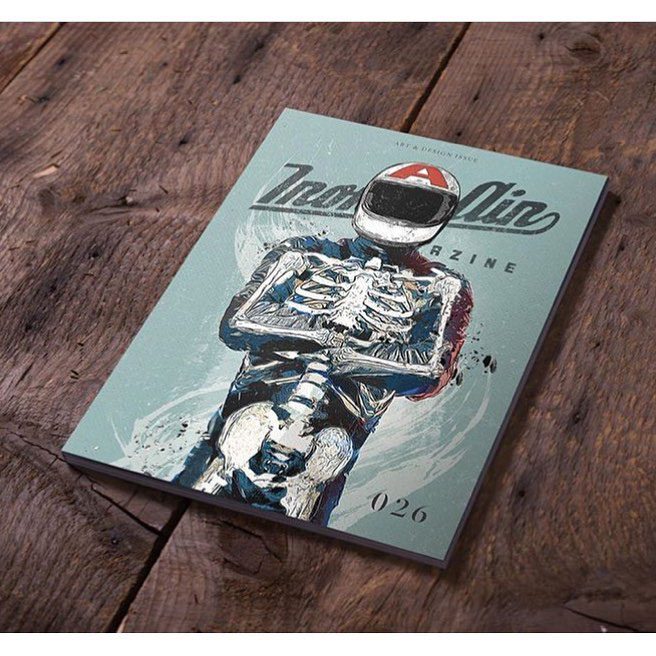 Ian's approach for his submission was: I wanted to create a near future illustration that felt like a real "ad" you'd see in a magazine. The rider has his Pagnol jacket and gloves and he's traveling on his electric supermoto with a sourced vintage tank with his Velomacchi bags packed.
Great Ian! I also always had the thought of how riding a motorcycle, especially at high high speeds at the track, really is a "superhuman-hero" like thing to do, so you heard it first here on our stories page, a slogan for our ad with this illustration: "If you are going to be a superhero, wear protective Pagnol gear"...or something like dat!
In the end, like with our videos contest, we got more than what we bargained for! A few other cool entries, two tied in 2nd place and others for 3d below.
In 2nd place, we have Matt Morris, a freelance Industrial designer at Triumph motorcycle in the UK.
His idea was: A design of a funky futuristic cafe racer with the rider wearing a Pagnol M1 jacket and gloves. The rider also has a Velomacchi Backpack. The image focuses on the bike with its large fuel cells and materials.
Matt also based his rendering over one of the images from Pagnol creative rider, David, a Cafe Racers of Instagram founder.
Great work Matt!
Tied for 2nd we have Will Hyde from the UK as well. Will does his artwork on the side, not a pro, but that was not a requirement for the contest, this contest was also to inspire aspiring designers-illustrators to keep going or as mentioned before, to promote professionals as well.
His story for the illustration, which of course we love, was:
I've created a 'what could've been' Katana for the current day. The main story behind it was if Hans still worked at Suzuki and never left. The GSX-R was dropped from being the flagship and the katana got the twin spare frame and still kept its square headlight and angular fairings from StarWars.
Lastly, a couple of 3d place examples:
Justin Yaetes and Jaimie Mcgrory.
They all said this was a very fun project, so it was for us! Thank you all!
Until the next contest!
Paulo Rosas
Pagnol